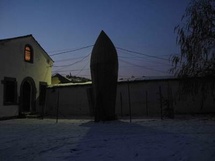 'Back to the future' is about a project that has appeared in other locations in Europe the recent past, and will 'land' now in Stacion - Center for Contemporary Art Prishtina as an introduction of his practice in Kosovar context, the context where his main body of work has its base and originates from. In many levels this makes this project specific, complex and different from the rest of his body of work.
What is highly significant for us in this project is one short but representational voyage of an object carrying life and traveling from Runik to Prishtina. The trip is symbolic. The bigger part of Petrit Halilaj's life and the life of the majority of the population of this country, is marked by relocation and displacement: forced to seek shelter from his home and village during the escalation of long occupation and war; deportation; returning home after the war; traveling away from his home and country for continuing his education; finding that home can be almost anywhere where you find love; successfully continuing his work in a very challenging international context and departing in a continuous quest for a better life for all.
But, what about moving chicken form a beautiful peripheral village in Kosova to the capital city, a symbolic and illustrative for the direction of the relocation and internal migration in this project of a new country? Are the chicken a part of this caravan of aimed success and upgrade of our lives? Will they survive or will they be left behind, or will they return back home? What else will be left behind and lost? Is this a new test of the survivability of spaceflight before manned space missions were attempted?
This new-planed short voyage, an impressive artist and his complex work, has invited us to reflect once again on several issues important for the development of our families and our society.
For all his exhibitions, the voyage is accompanied by a mapping structure that archives discussions and processes.
Simultaneously, with this exhibition, the artist and the structures around him, are engaged in a unique process for all, that will take it's next shape in late spring of 2010. For this exhibition, the future is intentionally left in the dark.
Back to the future is the way that I see Petrit Halilaj's work with Stacion.
Albert Heta
Back to the future with Petrit Halilaj is kindly supported by Banka Ekonomike, Koha Vision, Rrokum and DZG.
Stacion – Center for Contemporary Art Prishtina
Zija Prishtina str. n.n.
10000 Prishtina
Republic of Kosova
Phone: +381-38-222-576
Fax: +381-38-544-472
Contact:
info@stacion.org
www.stacion.org